RBI increases market trading hours from Nov 9.
The Reserve Bank of India has increased trading hours for the rupee and bond markets following easing COVID-19 lockdown restrictions. The trading hours for foreign currency and rupee market including forex derivatives, government securities, commercial paper and certificates of deposit has been increased by 1.5 hours.
Now, the rupee market will close at 3:30 pm as per Indian Standard Time instead of earlier closing time of 2 pm, after opening at 10 am.
The revised timings will be effective from November 9, 2020.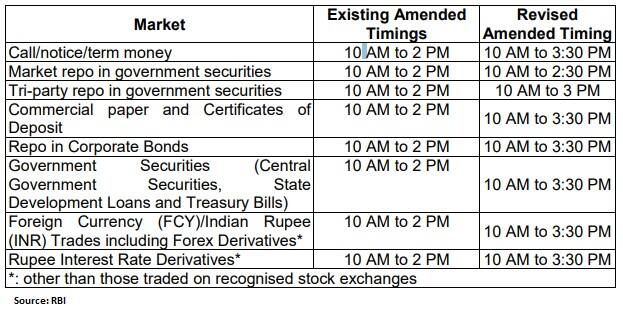 After the lockdown in March, the trading hours for money market had reduced due to COVID-19 crisis and restrictions on transport.
The trading hours for various markets regulated by the Reserve Bank were amended effective from April 7, 2020 in view of the operational dislocations and elevated levels of health risks posed by COVID-19, the RBI said.
For Tiwan & Korean firms Uttar Pradesh emerging as favoured investment hotspot.
As foreign firms expressed intent to invest in UP in a big way, Yogi govt has decided to bring out 'UP Electronic Manufacturing Policy – 2020' in August 2020, which is aimed at developing the Electronics sector in all parts of the state.
In a significant milestone for Yogi govt, Electronics Manufacturing Sector has achieved the five-year target in just 3 years by garnering an investment of Rs 20,000 and about 3 lakh employment generation. Many companies from China, Taiwan and Korea are making a beeline to invest in the Electronics sector in Uttar Pradesh and some of those have already arrived in a big way. Recently, Samsung relocated its plant in India from China.
Under the stewardship of Yogi Adityanath, Uttar Pradesh is fast emerging as hotspot destination for multi-national companies mainly from China, Taiwan and Korea. Electronics Manufacturing sector is drawing maximum investment as many firms have shown keen interest in setting up their bases in the state.
"The target of Rs 20,000 crore of investment and employment of three lakh was set to achieve till 2022 but could be achieved two years in advance as as many as 30 investors were attracted by the policies of the government to invest in Electronics sector in the state till 2020," Industrial Infrastructure and Industrial Development Commissioner (IIDC) Alok Tandon said.
He said, "the new ambience developed by the state government has resulted in Noida, Greater Noida and Yamuna Expressway area has a well-distinguished Electronics manufacturing hub where many units are coming up. We are receiving intents from several companies regularly as the Electronics Sector is beaming with the activities in the times to come."
An Electronic Manufacturing Cluster (EMC), designated as TEGNA cluster, is also being set up in NCR where foreign companies like Oppo, 3 Indian companies and 4 Taiwanese companies are setting up their units with an expected investment of Rs 2000.
Buoyed by its success, Yogi government decided to bring out 'UP Electronic Manufacturing Policy – 2020' in August 2020, which aimed at developing the Electronics sector in all parts of the state. Uttar Pradesh government, in view of the successful investment scenario in the sector, has also upwardly revised the target to bring fresh investments of Rs 40,000 crore and further generate 4,00,000 employments in the next 5 years.
Under the 2020 policy, 3 Electronics Manufacturing Clusters – an Electronic City near Jewar Airport on Yamuna Expressway, Defense Electronics Manufacturing Cluster (DEMC) in Bundelkhand and a Medical Electronic Manufacturing Cluster in Lucknow-Unnao-Kanpur zone – have been proposed to be established.
Besides, in order to attract investors in establishing manufacturing industries in Bundelkhand and Purvanchal region, various financial incentives have been envisaged in the new policy.