Navratri 2020! Colours To Wear On The 9 Days Of Navratri—And Their Significance
Navaratri is one of the most important festival of India which is celebrated with full devotion, enthusiasms, and enjoyment all over the country. Devotee worships goddess Durga and seeks her blessings.
This festival is celebrated in different ways over the country some people use to do Aarti some plays garba and dandiya. Navaratri means nine nights, which celebrates the victory over evil.
The festivals honors nine awatar of Goddess Durga and each day of Navaratri carry its own significance.
Devotees take care of all the things during Navaratri. Even they wear clothes of different colors according to each day as colors plays a vital role in Navaratri.
So here is the list of different colors according to dhrik panchang which you should wear this Navaratri:
Navratri colour Day 1 for Goddess Shailaputri- Royal blue.
This color represents power so wear this color first of Navaratri.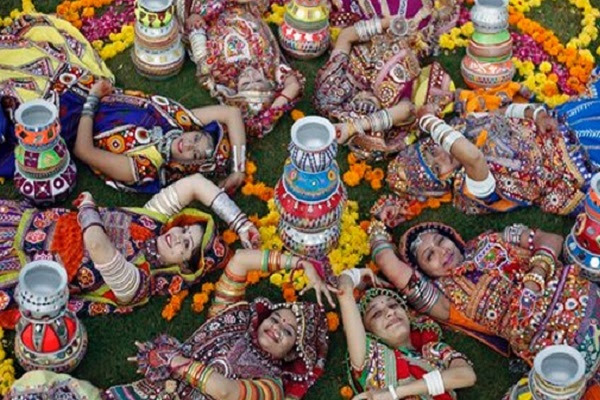 Navratri colour Day 2 for Goddess Brahmacharini- yellow.
Yellow color is always used in devotional use and it symbols joy and happiness.
Navratri colour Day 3 for Goddess Chandraghanta- Green.
This color gives you so fresh feel.
Navratri colour Day 4 for Goddess Kushmanda- Grey.
Grey color is always fashionable so wear fashion this festive season also.
Navratri colour Day 5 for Goddess Skandamata- Orange.
On this day wear orange because this is a symbol of happiness and energy.
Navratri colour Day 6 for Goddess Katyayani- White.
This color represents purity so wear this pure color.
Navratri colour Day 7 for Goddess Kalratri- Red.
This color represents anger towards the enemy.
So friends enjoy this Navaratri with lot of colors wear these colors according to each day, this will bring happiness and joy to you.
Complete ban on crackers from Nov'9 to Nov'30 in Delhi, nearby areas.
NGT imposed a complete ban on sale and use of firecrackers.
This ban has been imposed in view of rising air air pollution.
The order relevant more than 2 dozen districts of 4 states.
Gurgaon, Noida, Faridabad and others be affected by the ban.
NGT (National Green Tribunal) has imposed a complete ban on sale and use of firecrackers in Delhi and adjoining areas beginning midnight of November 9 to November 30. The ban has been imposed forward of Diwali to forestall additional rise in air air pollution – already within the "severe" zone – due to firecrackers.
The order can be relevant to greater than 2 dozen districts throughout 4 states which can be part of the NCR.
Nationwide, the ban on firecrackers can be relevant to all "cities and towns where the average ambient air quality in November last year was "poor" or worse", the inexperienced tribunal has stated.
Only inexperienced crackers – thought of to be much less polluting – can be bought in cities and cities the place air high quality is "moderate", the tribunal ordered additionally proscribing the timing of use to 2 hours, as specified by the state, "due to Covid19 ".
"If nothing is specified, timing will be 8-10 pm on Diwali and Gurupurb, 6am-8 am on Chhath and 11.55pm-12.30am during Christmas and New Year's eve," the order learn.
For "other areas" with higher air high quality, NGT has made the cracker ban elective, however directed states to "initiate special drives to contain air pollution from all sources in view of COVID-19".
It added that if there are "more stringent measures (to check air pollution) under orders of the authorities, the same will prevail". Even earlier than in the present day's order, many states, together with Sikkim, West Bengal, Rajasthan and Delhi, had banned sale and use of every kind of firecrackers.
The order additionally directs the central and state air pollution management boards to usually monitor compliance and compile air air pollution information from November 9 to November 30, put it on their web sites and "file a consolidated report".
The National Green Tribunal's order got here on a petition in search of motion towards firecracker-caused air air pollution, together with inexperienced crackers, in NCR in the course of the time air high quality is unsatisfactory – the winter months beginning with stubble burning in October – with potential impact on severity of the coronavirus pandemic. It referred to statements by the central and state well being ministers warning of rise in COVID-19 instances – by as much as 15,000 instances a day – as a consequence of air air pollution in the course of the festive season.
Delhi is at the moment in the course of a 3rd wave and recorded greater than 7,000 instances in a day – the second time in three days. Over this era, air high quality within the National Capital Region has remained "severe" –  identified to have an effect on wholesome folks and severely influence these with present ailments.
The Indian Medical Association has linked at the very least 17.5 per cent of Delhi's Covid19 instances since October-end to air air pollution.
Mumbai's municipal physique, BMC, has additionally banned sale and use of fireside crackers within the monetary metropolis and surrounding areas, besides on the day of Laxmi Puja on November 14.
The choice comes a day after Maharashtra Chief Minister Uddhav Thackeray stated he wouldn't ban crackers however sought "people's cooperation".
Mumbai, the capital metropolis of nation's worst hit state of Maharashtra, has already recorded two peaks in July and September, with the latter seeing as much as 20,000 instances a day.