Indian, Pakistan security forces exchange sweets on LoC, IB
Indian and Pakistan security forces on Wednesday exchanged sweets and greetings on the Line of Control (LoC) and the International Border on the occasion of Eid-ul-Fitr.
Defence sources said Indian soldiers greeted Pakistan soldiers on the LoC in Chakan Da Bagh area of Jammu and Kashmir's Poonch district and the two sides exchanged sweets.
The Border Security Force (BSF) and Pakistan Rangers deployed on either side of the International Border in the state's Samba district also had an exchange of goodwill and greetings, BSF sources said.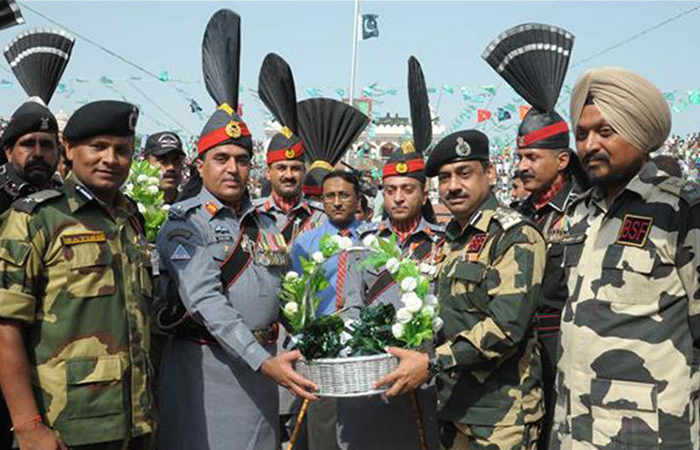 BSF troopers also exchanged sweets with the Rangers counterparts at the Attari-Wagah joint checkpost, some 30 km from Amritsar, in Punjab to celebrate the festival.
It is for the first time after Narendra Modi was sworn in as the Prime Minister of India for the second five-year term that security personnel have exchanged greetings with each other.
Exchange of greetings and sweets takes place on the Independence Days, national days and festivals like Eid and Diwali.
In recent years, both sides have not greeted each other or exchanged sweets on some occasions due to tensions between both countries following ceasefire violations on the Line of Control and the International Border in Jammu and Kashmir or terrorist activities in the state.
Chief of Defense Staff to be appointed: PM
New Delhi: The Chief of Defense Staff is a proposed position who will serve as the combined head of the Indian Army, the Air Force and the Indian Navy.Addressing the nation on Independence Day on Thursday, Prime Minister Narendra Modi announced that the armed forces in India will have a Chief of Defense Staff.
The CDS is a combined head of the Indian Army, the Air Force and the Indian Navy and will act as the single-point military advisor of the Defense Minister of India. The appointment is likely to be someone who is senior to the three serving chiefs or one of the three serving chiefs in rotation. General VP Malik, who was the Army Chief during the Kargil War, calls this a major step in the national security organization which was being considered for the last 20 years but nobody took a decision.
He adds that the appointment may be more economical because it may do away with a certain amount of duplication that we have among the three services. The Chief of Defense Staff is a proposed position that was recommended by a Group of Ministers – led by the then Deputy Minister LK Advani – set up in 1999 after the Kargil War.