Indian, Pakistan security forces exchange sweets on LoC, IB
Indian and Pakistan security forces on Wednesday exchanged sweets and greetings on the Line of Control (LoC) and the International Border on the occasion of Eid-ul-Fitr.
Defence sources said Indian soldiers greeted Pakistan soldiers on the LoC in Chakan Da Bagh area of Jammu and Kashmir's Poonch district and the two sides exchanged sweets.
The Border Security Force (BSF) and Pakistan Rangers deployed on either side of the International Border in the state's Samba district also had an exchange of goodwill and greetings, BSF sources said.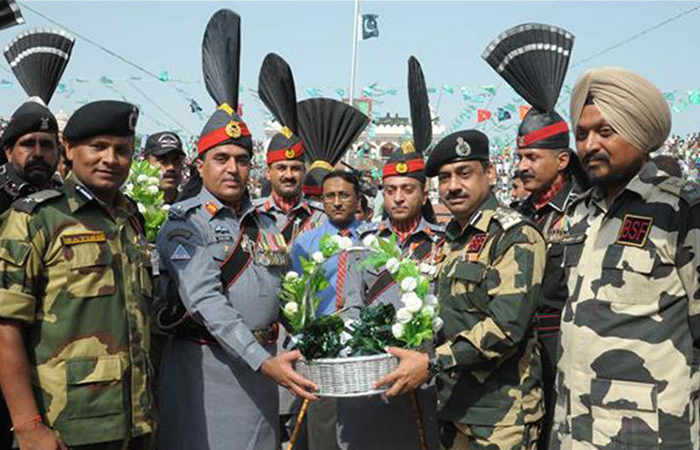 BSF troopers also exchanged sweets with the Rangers counterparts at the Attari-Wagah joint checkpost, some 30 km from Amritsar, in Punjab to celebrate the festival.
It is for the first time after Narendra Modi was sworn in as the Prime Minister of India for the second five-year term that security personnel have exchanged greetings with each other.
Exchange of greetings and sweets takes place on the Independence Days, national days and festivals like Eid and Diwali.
In recent years, both sides have not greeted each other or exchanged sweets on some occasions due to tensions between both countries following ceasefire violations on the Line of Control and the International Border in Jammu and Kashmir or terrorist activities in the state.
Lady cop thrashes man for eve-teasing school girls in Kanpur
Kanpur: A man, caught eve-teasing school girls here on Tuesday, was adequately punished by a woman constable.
In a video that has gone viral on the social media, the woman police constable is seen taking off her shoes and hitting the man 22 times in the 33-second clip. She is seen catching him by the collar and reprimanding him for his behaviour.
The accused was publicly shamed, as the woman constable questioned his morality in front of residents who gathered around to watch what was happening. She can be heard asking, "Have you gone mad? Don't you have a mother or sister at home?"
The woman constable has been identified as Chanchal Chauraisa of the Anti-Romeo Squad of Bithoor police station.
The accused was later taken to the police station and booked under Section 294 (persons indulging in obscene act in any public place causing annoyance to others) of the IPC.