Tech Trend! Samsung sets up 2019 innovation war with foldable smartphone
D.J. Koh, President and CEO at the IT and Mobile Communications Division of Samsung Electronics, knows what boredom can eventually do to technology — especially to smartphones that are lately witnessing incremental enhancements amid sales slowing down globally.
Barring design changes and offering Artificial Intelligence (AI)-enabled hardware, smartphones are currently offering nothing out-of-the-box.


The charismatic Samsung executive now wants you to fold the smartphone in half and use it like a tablet.
While other players like Huawei, LG, Motorola and arch rival Apple have secured patents on foldable devices, Samsung has taken a definitive lead with a real one.
Setting the stage for the Next-Gen innovation war, Koh teased us in an interview with tech portal CNET last month: "Possibly when we start selling the foldable phone, it may be a niche market… but definitely, it will expand. I'm positive that we do need a foldable phone."
The world finally saw a glimpse of the foldable phone during the Samsung Developer Conference 2018 in New York on November 7 when Justin Dennison, Senior Vice President of Mobile Marketing, took out a real foldable smartphone from his jacket.
Reports now say Samsung Electronics plans to launch its first foldable smartphone in March next year and the shipment volume will be at least one million.
Will Samsung's next big innovation change the furtune of the smartphone industry in 2019?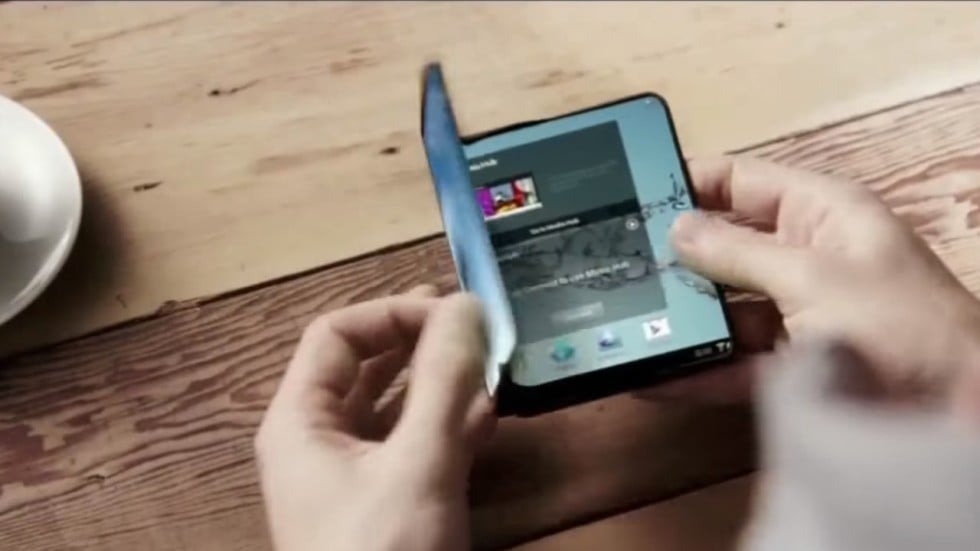 "Tab in your pocket is a great idea. The consumers' reactions and real use cases will tell us whether this extreme device will succeed or not, but at the moment, it is a remarkable innovation and now very much in existence," Jaipal Singh, Associate Research Manager, Client Devices, IDC India, told IANS.
Industry experts say Samsung may showcase the foldable smartphone at the Mobile World Congress (MWC) in February, ahead of the official launch in the following month.
While the price of the foldable smartphone has not been decided, it is said that it may cost around $1,770 to begin with.
According to Tarun Pathak, Associate Director at Counterpoint Research, Samsung has set a high bar for smartphone vendors, especially at a time when innovation is perceived to have reached its peak.
"With the upgrade cycle getting longer, smartphones with curved displays have potential to become popular with early adopters. This will also have implications on supply chain and developers," Pathak told IANS.
Positioning of components and creating content for developers is equally important in case of such devices.
"While the concept of foldable devices was always there, the Samsung announcement has put a lot of weight behind such a category that is ready for commercial deployment," Pathak added.
Experts have various suggestions about the upcoming device — that it should not be bulky, should consume less battery and fit easily into the palm; but Samsung must have deliberated on such factors while developing the device.
"Multi-tasking is the future and this device fulfills that. The experience has to be seamless for the consumers. The durability is also important for heavy users," said Singh.
The upcoming device will fold inward and sport a 7.4-inch screen when unfolded and have a 4.6-inch display like a regular smartphone when folded, said a report in Yonhap news agency.
According to Prabhu Ram, Head-Industry Intelligence Group (IIG), CyberMedia Research (CMR), the Samsung foldable phone will mark the beginning of a long road of new innovation.
"Smartphones have not seen much disruptive innovations for a long time now — in form factor and display. Samsung has now achieved a technical breakthrough in display manufacturing," Ram told IANS.
A foldable smartphone will soon reach near you. Koh, who understands the global smartphone market inside-out, says the foldable phone will not be a "gimmick product that will disappear after six to nine months after it's delivered".
Whether it will perfectly slip into your pocket and fit into your budget is yet to be seen, but foldable displays have rekindled hope in a market that reached its peak in 2018 and is waiting for the next big thing.
Samsung Galaxy A80 price dropped by Rs. 8000; now sold at Rs. 39,990
Samsung's first smartphone with a rotatable camera, the Galaxy A80 has seen a price cut in India. The smartphone is now available for Rs 39,990 across online and offline marketplaces ahead of Diwali. Now selling with Rs 8,000 discount, the Galaxy A80 was launched in India back in July at Rs 47,990, making it one of the contenders in the race for the best smartphone with a whacky camera mount. It is also one of the latest Galaxy A-series smartphones that Samsung has launched to date.
Samsung Galaxy A80 price in India has been revised to Rs. 39,990 on the Samsung India online store. Online marketplaces including Amazon.in and Flipkart are also reflecting the new price. Similarly, Mumbai-based retailer Manish Khatri of Mahesh Telecom suggests that the latest price cut applies to offline stores as well. We've reached out to Samsung India to confirm the price drop and will update this space when we hear back.
The Galaxy A80 sports a 6.7-inch FHD+ (2400×1080) Super AMOLED display with extremely slim bezels on the top and sides. Unlike other Galaxy phones this year, the Galaxy A80 does not get a notch or hole-punch cutout on the display. Samsung has used a unique rising camera mechanism in which the triple rear cameras rise up and rotate to the front.
Powering the Galaxy A80 is a Snapdragon 730G chipset coupled with 8GB of RAM and 128GB of internal storage. The handset ships with Android 9 Pie-based One UI, which comes with features like system-wide dark mode and a redesigned UI for easier one-handed use.
Coming to the cameras, the Galaxy A80 features a 48 MP f/2.0 Sony IMX 586 main sensor for crisp and detailed high-res photos, an 8MP f/2.2 ultra-wide-angle camera and ToF (Time of Flight) camera for depth mapping. All three rear cameras can be rotated to the front for crisp selfies, group selfies and portrait selfies. Galaxy A80 houses a 3,700mAh battery and supports 25W fast charging.