Last rites of IAF chopper pilot done with military honours
The last rites of Indian Air Force (IAF) helicopter pilot, Squadron Leader Siddharth Vashisth, who was among the six personnel killed when their MI-17 chopper crashed near Badgam, Jammu and Kashmir, were done with full military honours here on Friday.
Hundreds of people, including family members and friends, and serving and retired defence officers attended the cremation.
Air Force personnel fired in the air and reversed their arms as a mark of respect.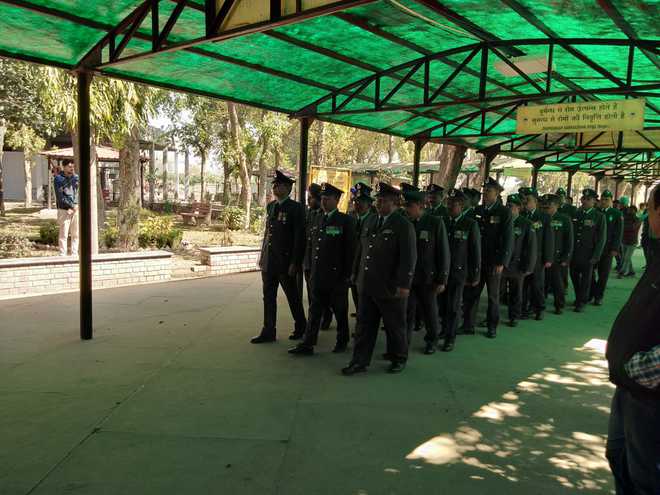 He is survived by his wife, Squadron Leader Arti Singh, who is also posted with the IAF in Srinagar, and a two-year-old son.
The 31-year-old pilot was a fourth generation from his family in the defence forces. He had received commendation on January 26 for his exceptional contribution towards rescue operations during the Kerala floods last year.
Siddharth had taken off from the Srinagar airport on Wednesday morning and the helicopter crashed minutes later due to a technical snag.
He was posted to 154 Helicopter Unit in Srinagar in last July. He had joined the IAF in 2010.
Punjab Governor V.P. Singh Badnore and other senior officers met the family of the pilot and condoled his death.
The last rites of IAF corporal Vikrant of Haryana's Jhajjar district were also done on Friday with full military honours.1
Make those not wearing masks serve at Covid centres: Gujarat HC
Expressing concern and dissatisfaction over the violating the Covid-19 guidelines in Gujarat, the High Court on Wednesday ordered the state government to issue a notification to make those not wearing face masks to perform community services at Covid care centres for five to 15 days.
The High Court also expressed "shock" over the way BJP legislator Kanti Gamit allegedly flouted all Covid-19 protocols and guidelines at a family function. The court also asked what the state government was doing about the issue.
A video clip had gone viral on the social media, wherein over 6,000 persons had gathered at his grandson's engagement ceremony, most of them without masks and violating all Covid-19 guidelines.
"This is shocking and unfortunate. What was the police doing when such a large gathering occurred? We are not at all satisfied with the way the government has handled the situation. Incidents like this make all your efforts till now meaningless."
VDO.AI
A bench of Chief Justice Vikramnath and Justice JB Pardiwala, during a suo motu hearing on coronavirus and lockdown situation, on which over 50 PILs have been filed, ordered the Gujarat government to issue the notification to ensure social service by face mask norm violators at Covid care centres apart from fine of Rs 1,000.
The HC had last week suggested to the government that as the people were not heeding to the warning of fines, there was a need to make them serve at Covid care centres for eight to 10 days in addition to levy of fines so that they understood the gravity of the pandemic.
Advocate General Kamal Trivedi, appearing for the Gujarat government on Tuesday, had said that the state was unable to act on the HC suggestion and sought another week's time to decide on the issue.
But the HC refused to give more time and gave the order on Wednesday.
According to the High Court's suggestion, persons not wearing masks in public shall be asked to perform community services at Covid care centres in the state for 5 to 15 days, at least 4 to 6 hours daily.
The community service shall be of non-medical nature like cleaning, housekeeping, help in cooking and serving food, data preparation etc.