Ayodhya: SC orders allotment of alternative land to Muslims for mosque
The Supreme Court on Saturday pronounced its verdict in the politically sensitive case of Ram Janmabhoomi-Babri Masjid land dispute in Ayodhya. The five-judge constitution bench headed by Chief Justice Ranjan Gogoi, includes Justices SA Bobde, DY Chandrachud, Ashok Bhushan and S Abdul Nazeer.
The Ayodhya dispute, India's longest-running historical, political and socio-religious debate, culminated on Saturday when the country's Supreme Court ruled on the title suit of the 2.77 acre land in this Uttar Pradesh town that is claimed both by Hindus and Muslims.
There was unprecedented security in Uttar Pradesh as well as other parts of India with Prime Minister Narendra Modi stating that the judgement would not be anyone's 'victory or defeat' but 'would give strength to India's tradition of peace, unity and amity'.
Here are highlights from the verdict:
* Sharp at 10.30 am, the 5-judge bench assembled to read out the verdict.
* The bench dismissed the appeal of the Shia Waqf Board, pronouncing an unanimous verdict in the case. Shia Waqf board's claim was over the disputed structure. Court says the land is held by the government, according to revenue records.
* SC said the disputed land was government land in revenue records.
* SC referred to the content of the lawsuit of devotee Gopal Singh Visharad — the first to approach court in 1950 — seeking right to worship at the site.
* Top court held that Nirmohi Akhara's suit is barred by limitation, not a shebait or devotee of deity Ram Lalla.
* SC lent credence to the archeological evidence on the disputed site.
* SC said that terming the archeological evidence as merely an opinion would be a great disservice to the Archeological Society of India.
* The Apex court said the Babri mosque was not built on vacant land. The underlying structure was not an Islamic structure.
* Court said the fact that there lied a temple beneath the destroyed structure has been established by the ASI.
* ASI had not established whether temple was demolished to build the mosque.
* Hindus consider this place as birthplace of lord Ram, even Muslims say this about disputed place: SC
* Faith of Hindus that Lord Rama was born at demolished structure is undisputed: SC
* The existence of Sita Rasoi, Ram Chabutra and Bhandar grih are the testimony of the religious fact of the place: SC
* Title cannot be established on ground of faith, belief; they are kind of indicator for deciding dispute: SC
* Evidence suggests Hindus were in possession of outer court yard, says SC
* Extensive nature of Hindus worshipping at outer courtyard at site has been there: SC
* Evidence suggest Muslims offered Friday prayers at mosque which indicates they have not lost possession: SC
* Despite obstruction caused in offering prayers at mosque, evidence suggest that there was no abandonment: SC
* Iron railing was set up at site in 1856-1857, it suggests Hindus kept worshipping at the site: SC
* Muslims have not adduced evidence they were in exclusive possession of dispute site: SC
* Muslims were not in possession of outer courtyard of the site: SC
* UP Sunni Central Waqf Board has failed to establish its case in Ayodhya dispute: SC
* On the contrary, Hindus established their case that they were in possession of outer courtyard: SC
* SC directs allotment of alternative land — of 5 acres — to Muslims to build new mosque.
* Damage to Babri mosque was violation of law: SC
* SC asks Centre to frame scheme within 3 months and set up a trust for construction of a temple.
* SC dismisses plea of Nirmohi Akhara seeking control of entire disputed land.
* Possession of disputed 2.77 acre land will remain with central government receiver for the temple: SC
* Centre, UP govt can monitor together future actions by authorities: SC
* SC grants entire 2.77 acre of disputed land in Ayodhya to deity Ram Lalla.
* SC directs Centre and UP govt to allot 5 acre land to the Muslims at a prominent place for building mosque.
* SC asks Centre to consider granting some kind of representation to Nirmohi Akhara in setting up of trust.
Remove Holi Colours Without Harming Your Skin with these tips
Holi is one festival that everyone both loves and hates . We love it ,because of all the amazing colours that it brings to our lives and we hate it when our skin gets all those rashes ,after trying to take colours off . Well before you again resolve to not play Holi the next year . Here are some simple life hacks that you can use to easily get rid of those stubborn holi colours .
While Holi is an extremely joyous and playful festival the colour that is used is sometimes deangerous and harmfull to your skin .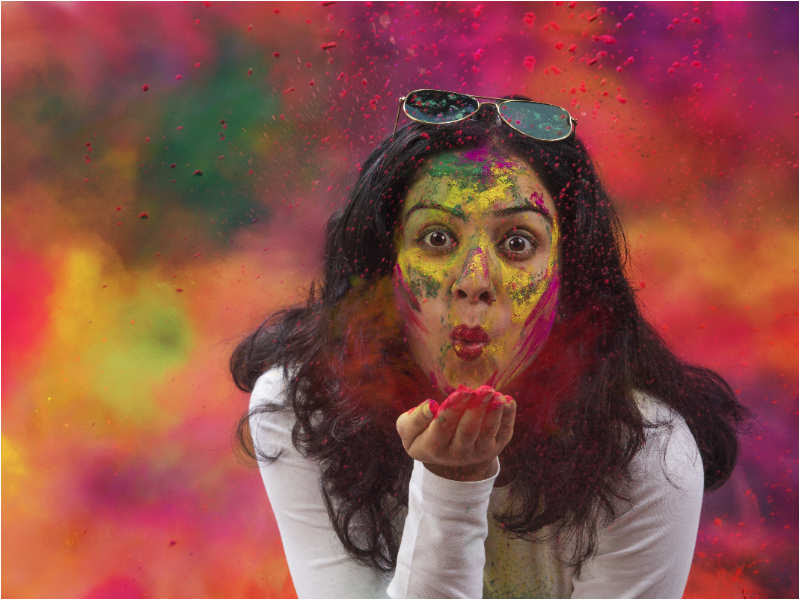 TIPS :
1.Gramflour and Curd: To remove colour from hairs ,keep a mixure of curds and besan in aaamla(aamla has to be soaked in a water one night before) and wash it .After applying this, shampoo your hair . The colour from your hair will easily come out
2.Banana and Milk : Make a paste of banana and milk .Now add some honey to it and mix well . Apply this mixture on your head and leave it till it dries This will easily remove colour from your hairs
3.Fenugreek (Methi) seeds:   Mix fenugreek seeds in curd and keep it overnighty .Apply this mixture on your head and leave it for half  hour .After washing it shampoo your hair .The colour will come out easily
4.Multani Mitti : Use this pack on your face and keep it till it dries . It helps in removing colours . You can also apply the pack of lemon juice and curd on your skin and then wash it after 20 mint . It helps in removing strong colours from your skin.
5.Gramflour and Cream: Mix Gramflour, oil and cream and make a paste of it . apply it on your skin and wash it after it gets dry .
*Always apply coconut or mustard oil before playing colours on your skin