PM Modi meets mother to seek blessings before casting vote
Prime Minister Narendra Modi on Tuesday called on his 98-year-old mother Hiraba at her residence here in Gujarat before casting his vote in the Lok Sabha elections.
Hiraba blessed her son and gave him a 'chunri', a coconut and Rs 501. The mother and son also exchanged sweets.
During his visits to Gujarat, Modi makes it a point to call on his mother. She stays with her younger son.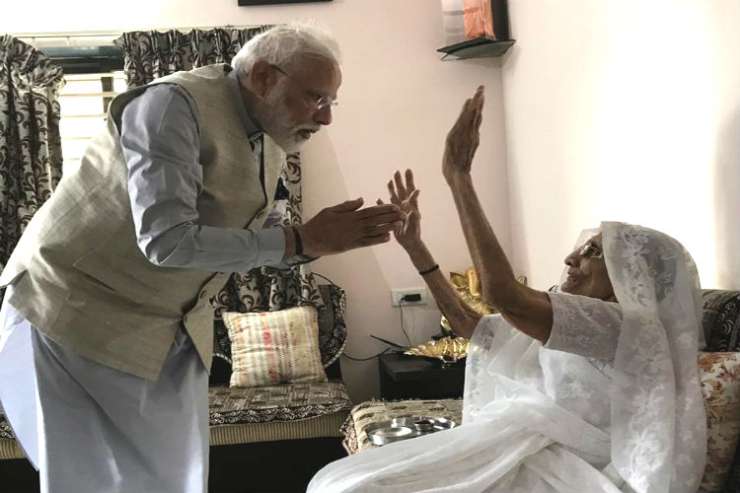 Later, she too cast her vote at a polling booth in Gandhinagar, where the BJP candidate is party President Amit Shah.
When Modi went to the Nishan School in Ranip area of Ahmedabad, Amit Shah accompanied him.
Before casting his vote, Modi played with Shah's granddaughter and gave enough opportunity to shutter bugs and videographers to take pictures.
Azam Khan's wife gets bail in electricity theft case
Rampur: Samajwadi Party MP Azam Khan's wife Tazeen Fatima was granted bail by a court here on Saturday in connection with a case pertaining to electricity theft.
A complaint was received by the authorities regarding illegal electricity and tubewell connections at a resort owned by Azam Khan's wife.
After the complaint, the resort was raided by Sub Divisional Magistrate (SDM) Prem Prakash Tiwari and Sub Divisional Officer (SDO) Rajeev Ranjan and on September 5, the local administration had cut off the electricity connection to the resort.
Mr Tiwari confirmed that power theft was detected during the raid.
Over 80 cases have been registered against Azam Khan, most of which are about the land encroachment by Jauhar University. The SP lawmaker is the varsity's vice-chancellor.