B-Town celebs mourn Goa CM Manohar Parrikar's demise
Bollywood names such as Amitabh Bachchan, Akshay Kumar and Anupam Kher have mourned the death of Goa Chief Minister Manohar Parrikar, who died aged 63.
A slew of actors remembered Parrikar and called him a "gentleman, intelligent and a good soul."
Parrikar died at his private residence here on Sunday evening after a prolonged battle with pancreatic cancer.
The condition of Parrikar, diagnosed with advanced pancreatic cancer in February last year and in and out of hospitals in Goa, Mumbai, Delhi and New York since then, had turned "extremely critical" on Sunday, the Chief Minister's Office tweeted earlier in the day.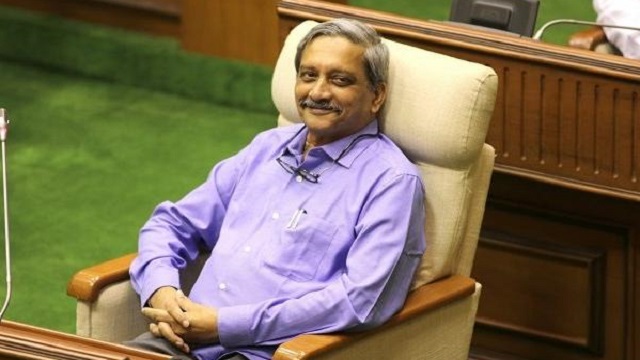 Here's what the entertainment celebrities have tweeted:
Amitabh Bachchan: Manohar Parrikar CM Goa, passes away. A gentleman to the core, simple in demeanour and well respected. Spent few short moments with him .. very dignified, fought his illness bravely. Prayers and condolences.
Anupam Kher: Deeply deeply saddened to know about the untimely demise of Manohar Parrikarji. He was one of the most real, dignified, intelligent, warm, down-to-earth and honest persons I had met. He had a great quality of inspiring people so effortlessly. Will miss him. Om Shanti
Akshay Kumar: Extremely sad at hearing about the demise of Manohar Parrikarji. I feel blessed to have had the fortune of meeting and knowing a sincere and good soul as he was. Heartfelt condolences to his family.
Kay Kay Menon: Manohar Parrikar, a fine example of 'simple living, high thinking'. A personality that inspired confidence in every position that he served for the Nation! RIP Sir.
Randeep Hooda: Man of few words,simple,epitome of integrity&efficiency,a straight shooter,defence minister,3 time chief minister of Goa, away from the trappings of a person in power, IITian, well mannered, a true servant of the nation, an example to follow for one and all.. Salute Manohar Parrikar.
Swara Bhasker: RIP Manohar Parrikar. Condolences and strength to the family in this tragic time of grief.
Shankar Mahadevan: A big void which can never be filled. An extremely sad day for India as we have lost one of the finest leaders Manohar Parrikar. My heartfelt condolences and prayers for the family.
Malaika Arora opens up about overcoming Covid-19
Actress Malaika Arora says she feels blessed to have overcome Covid-19 with minimum pain.
Malaika, who tested positive earlier this month, took to Instagram to share her journey of overcoming the virus.
"'Out and about'…M finally out of my room after so many days days, it feels like an outing in itself," the actress wrote while posting a picture of herself, in which she can be seen wearing a mask.
"I feel so blessed to have overcome this virus with minimum pain and discomfort. A big thanks to my doctors for their medical guidance, to BMC for making this process hassle-free, to my family for their immeasurable support and to all my friends, neighbours and fans for all their good wishes and the strength that I got from your messages and support. I can't thank you all enough in words for what everyone has done for me in these difficult times. All of you please stay safe and take care," she added.
On September 7, Malaika had confirmed that she has tested positive for Covid-19, after speculative reports did the rounds that she has contracted coronavirus. She shared the news officially on Instagram. Revealing that she has been infected by the virus, she added that she is asymptomatic and is quarantined at home.
"Today I have tested positive for coronavirus but I want to inform you all that I am feeling fine. I am asymptomatic and following all the required protocols and will be quarantined at home as instructed by my doctors and authorities. I request all of you stay calm and safe. Thank you for all your support. Much love Malaika Arora," Malaika wrote.
News of Malaika being infected started doing the rounds shortly after her good friend Arjun Kapoor announced a day before that he had tested Covid-19 positive.