BJP makes Nadda poll in-charge in UP, Sitharaman in Delhi
The BJP on Saturday appointed Lok Sabha poll in-charge in five states, giving the charge of Uttar Pradesh to Union Health Minister J.P. Nadda and of Delhi to Defence Minister Niramala Sitharaman.
Besides, Delhi and Uttar Pradesh, the party appointed poll in-charge in Karnataka, Haryana, Tripura, Jammu and Kashmir, Tamil Nadu and Union Territories of Andaman and Nicobar and Puducherry.


BJP General Secretary Muralidhar Rao was appointed poll in-charge of Karnataka and Railway Minister Piyush Goyal of Tamil Nadu and Union Territories of Puducherry and Andaman and Nicobar.
Party's veteran leader Kalraj Mishra has been given charge of Haryana and former MP Avinash Rai Khanna was appointed poll in charge of Jammu and Kashmir and Tripura.
The appointments were made by party President Amit Shah.
The party also appointed C.T. Ravi as the co-incharge of Tamil Nadu, Andaman and Nicobar and Puducherry, and BJP MLA Kiran Maheshwari for Karnataka.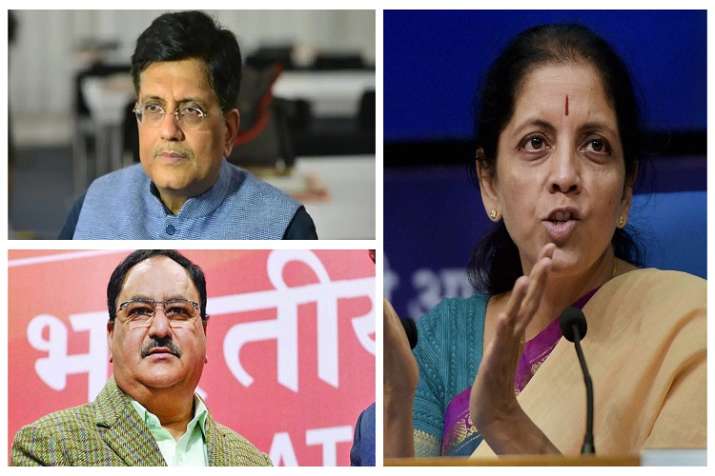 Jayaram Singh Pawada and MLA Vishwas Sarang have been appointed co-incharge of Delhi and Haryana respectively.
Uttar Pradesh is crucial for the BJP, as the party had won 71 seats on its own in the 2014 Lok Sabha polls, while its ally Apna Dal won two seats out of 80 seats in the state.
The party had also won all seven seats from Delhi and had also performed well in Karnataka and Haryana. In Jammu and Kashmir, the BJP had won three of six seats in the previos elections.
However, the party could win only one seat in Tamil Nadu and is expecting to improve its performance in the coming Lok Sabha elections.
Car manufacturer Maruti Suzuki is giving heavy discounts on its automobiles: See here
Maruti Suzuki is India's largest carmaker. The brand sells the highest number of cars in the Indian market. Adding to the same point is the fact that the top five best selling cars last month were Maruti Suzuki vehicles. This though is no fail proof plan that each month the cars will continue selling no matter what. To this very effect, Maruti Suzuki dealerships are offering discounts on their cars. Each and every model in the Maruti Suzuki Arena dealership gets a discount. For example, the least priced offering from the manufacturer, the Maruti Suzuki Alto gets a cash discount of Rs 15,000 whereas if one were to exchange their old car then an additional Rs 15,000 off will be provided. On the Celerio X, a few dealers are willing to give up to Rs 10,000 cash discount whereas on the Celerio, the offer is for Rs 15,000. However the Rs 15,000 is only available as exchange bonus.
Also Read Maruti Suzuki S-Presso review
On the Maruti Suzuki S-Presso, the cash discount is for Rs 12,000 and on the WagonR, it is for Rs 10,000. It may be noted that the CNG versions of these cars do not come with any discounts. On the base Maruti Suzuki Swift Lxi version and the Lxi (O), customers will get up to Rs 30,000 discount. Those dealers who have the pre-facelift model are willing to add an additional Rs 5,000 as part of the discounts. If one opts for the Vxi and above trims of the new model, then Rs 10,000 cash discount is being given.
On the Maruti Suzuki Dzire, customers stand to get no discounts on the top trims. On the base versions, Rs 5,000 discount is being offered. Same is the case with the Maruti Vitara Brezza but here the higher variants get Rs 10,000 off. There are no discounts on the Maruti Suzuki Ertiga. Depending on the model, customers might end up getting exchange bonus varying from Rs 10,000-20,000. Add Rs 5,000 corporate discount to the mix as well.