Bulandshahr violence: SSP, two police officials transferred
The Uttar Pradesh government on Saturday transferred Bulandshahr Senior Superintendent of Police Krishna Bahadur Singh and attached him to the office of the Director General of Police here, a Home Department official said on Saturday.
The state government has named Prabhakar Chowdhary as the new district police chief of Bulandshahr.
Two more police officials have also been transferred in connection with the mob violence in Bulandshahr town on Monday where an inspector and a civilian were killed, authorities said.


Circle Officer (CO) Satya Prakash Sharma and Suresh Kumar, the in-charge of Chingravathi police chowki, have been transferred "for their failure in responding in time to the situation arising on Monday in that area".
The decision was taken on the basis of a report submitted by the Additional Director General of Police S.B. Shiradkar.
The senior Home Department official said they have been taken to task for not being fast enough in reacting to the situation that arose after some Hindu right-wing activists found some animal carcasses in a field and took them on tractor-trolleys to block a road.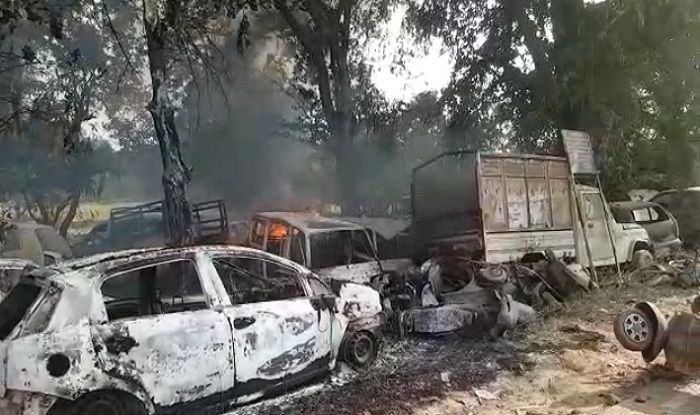 Police inspector Subodh Kumar Singh and the civilian from Chingravathi village, Sumit Singh, were killed in the mob violence that followed.
The action was taken after a high-level meeting was presided over by the Director General of Police (DGP) O.P. Singh, who had handed over the report to Chief Minister Yogi Adityanath on his arrival from New Delhi.
Adityanath, though, has already termed the Bulandshahr incident an "accident".


He had earlier said the incident was the result of a "big conspiracy" but at a media event in Delhi on Friday he said that the incident was actually an accident.
"No mob lynching happened in Uttar Pradesh, what happened in Bulandshahr is an accident," he said.
The police have arrested nine accused but the main conspirator Yogesh Raj, the district convener of the Bajrang Dal, continues to be at large.
Maha's Covid-19 deaths stay high, recoveries improve
Maharashtra's Covid-19 deaths remained on the upswing, staying past the 100-mark although new infections dropped and recoveries improved, health authorities said on Friday.
The state reported 127 deaths, taking up the toll to 47,599, while new infections remained above the 5,000-mark with 5,229 fresh cases taking the tally to 18,42,587.
While 11 of the state's 36 districts reported fatalities – and all reported new infections – the bulk of deaths came from the Mumbai-Pune regions.
The state recovery rate improved from 92.07 per cent to 92.81 per cent – while the mortality rate stood stable at 2.58 per cent.
Another chunk of 6,776 fully recovered patients returned home – taking the total number discharged from 17,03,274 to 17,10,050 till date – against the 83,859 active cases.
Of the new deaths, Pune again led the state with 25, while there were 16 in Ahmednagar, 14 in Mumbai, nine in Nagpur, eight each in Thane, Sangli, and Osmanabad, five in Aurangabad, four each in Satara and Bhandara, three each in Nashik, Solapur, Jalna, Chandrapur, and Gadchiroli, two each in Parbhani, and Latur, and one each in Raigad, Ratnagiri, Hingoli, Akola, Amravati, Yavatmal, and Buldhana.
Mumbai, remaining in the sub-50 fatality range for over a month now, saw its toll climb to 10,945 now, while fresh cases remained below the four-figure mark, with 813 new infections took its total to 284,509.
Mumbai circle (MMR) saw 23 new deaths, pushing up the toll to 18,625 and with another spike of 1,672 new infectees, the total cases shot up to 636,877.
Pune circle recorded 32 fatalities and the death toll rose to 10,898, while the daily infections increased by 1,062 to 460,110 cases now.
Meanwhile, the number of people sent to home quarantine decreased to 547,504, while the number of those in institutional quarantine also went down to 5,567.