Ultra-talented Virat has the attitude to be the best: Ponting
New Delhi: Hailing Virat Kohli as "ultra-talented", former Australia skipper Ricky Ponting on Monday said the Indian Test captain has got the attitude to be the best for the country.
Ponting said both Kohli and Australia skipper Steve Smith are at the same stage of their respective careers along with England's Joe Root and New Zealand captain Kane Williamson, but feels whoever plays mind games better will end up with a better career record.
"Virat probably got an edge with his ODI career. We have all seen how he played in the last Indian Premier League (IPL). He is an ultra-skilled and talented player but more importantly he has got the attitude to be the best he can be for his country and Smith is also in the same boat," Ponting told reporters at an interaction here.
"I don't really care who is the better between Kohli and Smith as long as they are playing well. Williamson or Root, all these are players who are probably on their same career path. Whoever masters the mind games well, will end up with the best career record," he added.
Kohli has struck 37 international hundreds while Root, Smith and Williamson have 18, 20 and 21 centuries to their names respectively.
The 40-year-old Tasmanian, however refrained from making a comparison between Virat and batting legend Sachin Tendulkar, calling the 26-year-old too young to make a comparison.
"Look lets wait for Virat to finish his career. He's too young in his career to make any comparison with Sachin. If he gets a bad injury tomorrow, and not playing, so there is no comparison. Sachin played 200 Test matches while Virat has just played 60-70 matches," he said.
He also said its totally on the Board of Control for Cricket in India (BCCI) and limited overs skipper Mahendra Singh Dhoni to take a call on separate captains for the various formats.
"My opinion does'nt matter, its all about what BCCI thinks or what Mahendra Singh Dhoni thinks about stepping aside, but right now it doesn't look like MS has got the desire to lead India in the ODIs and T20Is," he said.
Dismissing allegations that the current Australian Test side is struggling, the two-time World Cup winning skipper however, acknowledged that the upcoming Test series against India in 2017 will be a challenge for Smith's men.
"I don't think its (Australia's recent Test record) is so bad what people would like to think but they are playing against India very soon and that will be a challenge coming to the sub-continent and see how they handle these conditions in Test matches," he said.
"If you look at one series (against Sri Lanka) in isolation, yeah that is bad. But the Australian team is one of the top three teams in the last 10 years."
"Coming to one day cricket, we bounced back after a disappointing Test series to win the ODI series quite comfortably. Trust me its not that gloomy and we have some very very talented players in the last two or three seasons."
"Its not about how many superstars you have in your team. Its about how many Tests you have won for your country. That's the best reflection of how a team handles the transition phase," he added.
Remove Holi Colours Without Harming Your Skin with these tips
Holi is one festival that everyone both loves and hates . We love it ,because of all the amazing colours that it brings to our lives and we hate it when our skin gets all those rashes ,after trying to take colours off . Well before you again resolve to not play Holi the next year . Here are some simple life hacks that you can use to easily get rid of those stubborn holi colours .
While Holi is an extremely joyous and playful festival the colour that is used is sometimes deangerous and harmfull to your skin .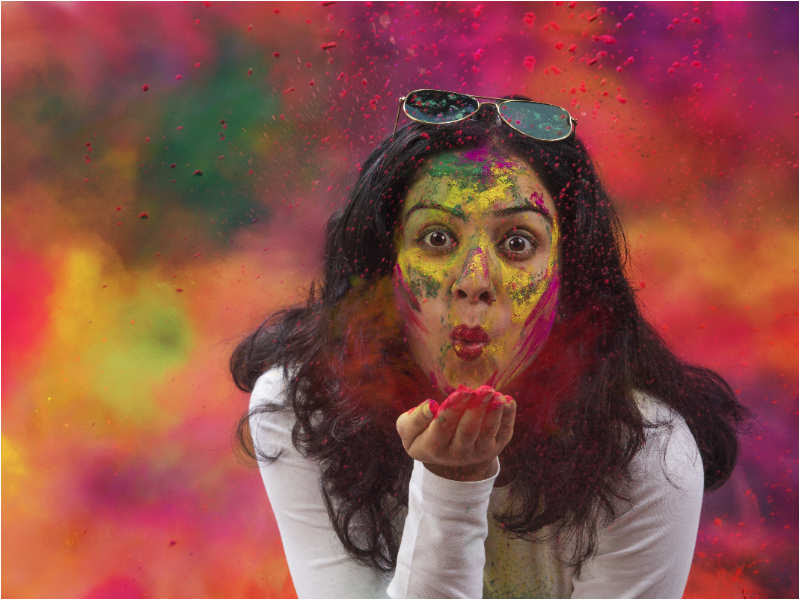 TIPS :
1.Gramflour and Curd: To remove colour from hairs ,keep a mixure of curds and besan in aaamla(aamla has to be soaked in a water one night before) and wash it .After applying this, shampoo your hair . The colour from your hair will easily come out
2.Banana and Milk : Make a paste of banana and milk .Now add some honey to it and mix well . Apply this mixture on your head and leave it till it dries This will easily remove colour from your hairs
3.Fenugreek (Methi) seeds:   Mix fenugreek seeds in curd and keep it overnighty .Apply this mixture on your head and leave it for half  hour .After washing it shampoo your hair .The colour will come out easily
4.Multani Mitti : Use this pack on your face and keep it till it dries . It helps in removing colours . You can also apply the pack of lemon juice and curd on your skin and then wash it after 20 mint . It helps in removing strong colours from your skin.
5.Gramflour and Cream: Mix Gramflour, oil and cream and make a paste of it . apply it on your skin and wash it after it gets dry .
*Always apply coconut or mustard oil before playing colours on your skin