OMG! Bollywood couples kissing openly in public caught on camera
Everyone has a different way of expressing their emotions.  But, love is that emotion which some people like to show while some keep it reserved in their personal space.  When bollywood celebs are in love they have to keep it a secret for their reputation. But, it becomes hard for them as all cameras have eyes on them.
As we all know, lip locking in public is something people find common these days but if a bollywood couples are caught doing this in public then it is a big news. Today, we will tell you about those bollywood couples who were caught doing kissing on camera.
Hrithik Roshan and Sussanne Khan
Hrithik Roshan and Sussanne Khan have parted their ways now but there was a time when they were madly in love with each other. They were once caught kissing publicly in an ice cream parlour in the US. However, their picture of kissing each other became viral.
Deepika Padukone and Ranbir Kapoor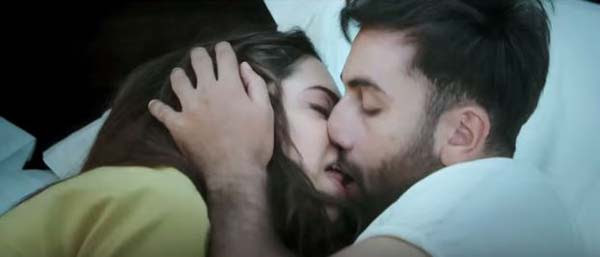 Deepika Padukone and Ranbir Kapoor were considered as one of the most cutest couple of bollywood. News of their parting ways shocked everyone in the industry. Once, they were caught kissing each other at the Banglore airport which became so much viral. Even after their break-up, they did many movies together.
Shahid Kapoor and Mira Rajput
Shahid Kapoor and Mira Rajput are one of the most adorable couple in bollywood. Shahid's wife Mira Rajput might not be from this industry but she is winning millions of hearts through her charm. Picture of both kissing each other became sensation on internet.
Amitabh Bachchan and Jaya Bachchan
Jaya Bachchan and Amitabh Bachchan are considered as an ideal couple of bollywood. Recently, their picture of kissing each other went viral on internet. During a certain award function Amitabh Bachchan was caught giving a quick smooch to wife Jaya Bachchan.
Bipasha Basu and Christino Ronaldo
Bipasha Basu and football player Cristiano Ronaldo are also on this list. They both kissed each other at an after party in Portugal. However, according to reports, Bipasha later denied the kiss and Bips revealed she was just a fan of him.
Once seen as small girl on screen Ahsaas Channa is not hottie in film town
Mumbai: Actress Ahsaas Channa, who features in Girliyapa's web series "Girls Hostel", says college or hostel life teaches everybody something about themselves.
The three-part original series revolves around the lives of four girls from different backgrounds and their life in St. John's Dental College and the hostel they reside in. Ahsaas portrays the role of Richa — an 18-year-old fresher from Nagpur; Simran Natekar as Milli — a pampered girl from an affluent background; Srishti Srivastava as Jo, who lives life by her own rules and has been raised as a tomboy; and Parul Gulati as Zahira — the quintessential college queen.
"My first day at college was a lot like Richa's first day in the hostel… pretty cool. I was exploring all over and got to hang out with really cool people who are my best friends even now. So, I think college or hostel life teaches everybody something about themselves and we get to explore the side of us that we never came across," Ahsaas said in a statement.
Talking about her college days and hostel life, Srishti said: "Long corridors and dim lights… with girls in pyjamas, loaded with love, hate and lots of secrets… lots of strangers thrown into one place who end up becoming a family, lots of personal belongings that end up being used by everyone, lots of fights and hate that may or may not end up in love. It's a long time that feels like it gets over in seconds."
Ahsaas Channa whom you have seen as small girl is now turned hottie in real life:
Ahsaas Channa is an Indian actress who appeared as a child actor in Hindi films such as Vaastu Shastra, Kabhi Alvida Naa Kehna, My Friend Ganesha, Phoonk, etc. As a teenager, she has been mostly active in television shows, such as Devon Ke Dev…Mahadev, Oye Jassie and MTV Fanaah.
She was born on 5th August 1999 in Mumbai. Her father Iqbal Bahadur Singh Channa is a Punjabi film producer while her mother Kulbir Badesron Channa is a television actress.
Ahsaas started her career at a very young age. She did her debut with the movie Vaastu Shastra where she played the role of Rohan, Sushmita Sen's son. She also played a boy in My Friend Ganesha and Kabhi Alvida Naa Kehna.
On television, she acted in Nikhil Sinha's Devon Ke Dev…Mahadev as Ashokasundari, lord Shiva and Parvati's daughter. She also played the role of Dhara in MTV Fanaah, the mini TV series that aired on MTV India starting from 21 July 2014. She was seen in Disney Channel's show Oye Jassie and in the fourth season of Best of Luck Nikki.