SHOCKING! Arshi Khan speaks about having SEX with this cricketer
Arshi Khan who became world-wide popular through famous reality TV show Bigg Boss opened up his relation with Shahid Afridi.  Arshi, before entering the show grabbed eyeballs by making offensive statement  upon Pakistani Cricketer Shahid Afridi after which she indulged into trouble.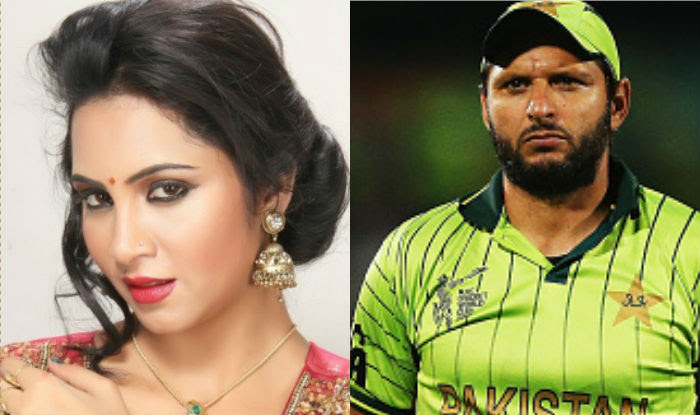 In 2015, Arshi tweeted on her Twitter account and said that she had sex with Afridi. She tweeted, "Yes, I had sex with Afridi. Do I need the Indian media's permission to sleep with someone? It's my personal life. For me it was love."
Before entering in the show, in one of her interview she said that she wanted to marry him and she also added that she has even tried to contact the cricketer. Even when she entered the reality show, she once said that she had relations with the cricketer.
Arshi Khan who is well-known for her bold and outspoken attitude was invited as the guests on Rajeev Khandelwal's chat show titled as 'JuzzBaatt' where she again spoke up about the same controversy. She was invited along with her childhood friend that is Rakhi Sawant.
When she appeared on the chat show it was crystal clear by her statements that she was quite apologetic for statement that she made about Shahid Afridi. She admitted her mistake and also apologized for whatever happened. She said, "I respect Mr Afridi a lot. He has done a lot for me. That tweet was a mistake and I should not have addressed him openly about such sensitive issues. Afridi Sahaab ke bahut ehsaan hai mujh par."
OMG: Disha Patani exposes her perfect figure sexy curves in these SNAPS
Mumbai: Bollywood actress Disha Patani is on cloud 9 these days as her last film Baaghi 2 was a blockbuster. She's also in the news for her rumoured affair with next superstar of Bollywood Tiger Shroff.
In recent past time she was seen in a sleeveless short dress while walking on the streets of Mumbai. Her body curves were fully visible in her tight dress. It also revealed that how much hard work Disha puts up in the gym to get this dream figure.
Disha Patani says she enjoys playing dress up for traditional Indian weddings and she personally pays a lot of attention to make-up, accessories and hair colour during such occasions.
"It is so much fun to dress up for Indian weddings. Not just the huge list of ceremonies to attend, but these days we also have different wedding themes-from grand traditional heritage set up to seaside affairs…we have a host of options.
Oh Wow: Sexy Disha Patani shows her perfect figure in these photographs:
"That also gives us a chance to dress up differently and experiment with our overall look. When it comes to creating a look, I pay a lot of attention to my make-up, accessories and hair colour," said the "Baaghi 2" actress.
The actress feels it is imperative to choose the right hair colour that matches your skin tone, features and most importantly, personality.
"Dashing hair colour can even transform a modest look, and can make you look fashionable – that's the power of good hair colour and style," said Disha, whose favourite hair colour shades are NEW Garnier Color Natural's Caramel Brown and Wine Burgundy, which she says suit bright-hued Indian outfits as well as with pastel gowns.
The pics went viral on the social media and all her fans of Disha were praising her beauty and charm. So now if you like our article then stay connected for more such interesting update about gorgeous goddess Disha Patani.