SHOCKING! Arshi Khan speaks about having SEX with this cricketer
Arshi Khan who became world-wide popular through famous reality TV show Bigg Boss opened up his relation with Shahid Afridi.  Arshi, before entering the show grabbed eyeballs by making offensive statement  upon Pakistani Cricketer Shahid Afridi after which she indulged into trouble.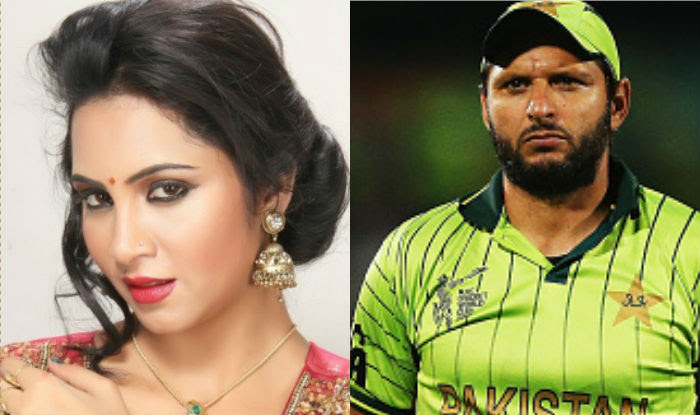 In 2015, Arshi tweeted on her Twitter account and said that she had sex with Afridi. She tweeted, "Yes, I had sex with Afridi. Do I need the Indian media's permission to sleep with someone? It's my personal life. For me it was love."
Before entering in the show, in one of her interview she said that she wanted to marry him and she also added that she has even tried to contact the cricketer. Even when she entered the reality show, she once said that she had relations with the cricketer.
Arshi Khan who is well-known for her bold and outspoken attitude was invited as the guests on Rajeev Khandelwal's chat show titled as 'JuzzBaatt' where she again spoke up about the same controversy. She was invited along with her childhood friend that is Rakhi Sawant.
When she appeared on the chat show it was crystal clear by her statements that she was quite apologetic for statement that she made about Shahid Afridi. She admitted her mistake and also apologized for whatever happened. She said, "I respect Mr Afridi a lot. He has done a lot for me. That tweet was a mistake and I should not have addressed him openly about such sensitive issues. Afridi Sahaab ke bahut ehsaan hai mujh par."
Shocking: Rakhi Sawant opens about donating her breasts publicly
Mumbai: Bollywood's most controversial queen Rakhi Sawant says the way actress Aishwarya Rai Bachchan has donated her eyes similarly she wants to donate her breasts too along with other parts of her body too.
Rakhi during in an event she said people donate body organs like Aishwarya planned to give her eyes to a needy person after her death. Many others donate Kidney and other body parts too. So i also decided to donate something different and planned to donate my B***S.
She further said, yes i have a nice B***S, so i thought that i should donate them. I want to help breast cancer patients by donating my B***S. Rakhi adds that even she has insured her body parts like breasts and other organs as well.
Rakhi spokes during the launch fourth 'Bride Award Trophy' where actress Sunny Leone was also present. Sunny Leone was seen wearing a printed dress whereas Rakhi was seen in printed shimmer outfits with pair of boots.
The actress Rakhi Sawant says she faced rejections and so, resorted to surgery to improve her physical appearance.
Weird: Controversial queen Rakhi Sawant wants to donate her B***S:
Rakhi, who was originally named Neeru Bheda, shot for an episode of the weekend chat show "JuzzBaatt… Sangeen Se Namkeen Tak".
When the show's host Rajeev Khandelwal addressed Rakhi as Neeru, she became extremely emotional and spoke about her transition, read a statement.
"My family never approved of me getting into the (entertainment) industry and would beat me up black and blue if they would ever find me dancing. When I finally reached Mumbai, I started dancing and showcasing my talent in front of many producers who would also see me in a bad light," said Rakhi.
"I thought that I would rather dance at a dance bar than in front of such inconsiderate people. I faced innumerable rejections and resorted to surgery to improve my looks and appearance. I went into the surgery room as my former self Neeru Bheda but came out as a new and improved version of my own self – Rakhi Sawant."
"JuzzBaatt…Sangeen Se Namkeen Tak" is aired on Zee TV.
Also see video related t this news: